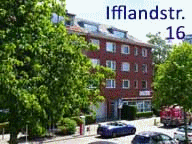 Impressions of Hohenfelde
and surroundings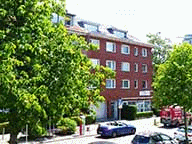 Living examples with apt.no.
In the trendy district of Hohenfelde 1 and 2 room apartments are waiting for you. The size of the apartments in Ifflandstr. 16 varies between 22 and 54 square meters. Each one is individually furnished, bright, with parquet flooring and most with a balcony.
The Alster-Schwimmhalle (natatorium) with a variety of fitness facilities is right across the street. Currently in renovation.


Hohenfelde is very popular because of the direct location to the river Alster and the proximity to the bar districts St. Georg and Uhlenhorst, as well as within walking distance to the city.

Apartments are available between 910 € and 1,470 €, all inclusive.
Top floor:
Penthouse P-2 (53 sq.m.): 2 rooms, 2 loggias South+West, 1.470 €, Sorry, no availability
Penthouse P-1 (54 sq.m.): 2 rooms, 2 loggias East+West, 1.470 €, Sorry, no availability
3rd floor:
Apartment 3-3 (46 sq.m.): 2 rooms, South-East orientation, 1.230 €, Sorry, no availability
Flat 3-2 (45 sq.m.): 2 rooms, South-West orientation, Long term rented
Apartment 3-1 (54 sq.m.): 2 rooms, East balcony, 1.400 €, Sorry, no availability
2nd floor
Apartment 2-4 (24 sq.m.): 1 room, North-East balcony, 920 €, Sorry, no availability
Apartment 2-3 (37 sq.m.): 1 room, South balcony, 1.070 €, Sorry, no availability
Apartment 2-2 (45 sq.m.): 2 rooms, South-West orientation, 1.160 €, Sorry, no availability
Apartment 2-1 (54 sq.m.): 2 rooms, East balcony, 1.400 €, Sorry, no availability
1st floor
Apartment 1-4 (22 sq.m.): 1 room, North-East balcony, 910 €, Sorry, no availability
Apartment 1-3 (39 sq.m.): 1 room, South balcony, 1.070 €, Sorry, no availability
Apartment 1-2 (45 sq.m.): 2 rooms, South-West orientation, 1.160 €, Sorry, no availability
Apartment 1-1 (54 sq.m.): 2 rooms, East balcony, 1.400 €, Sorry, no availability
Raised ground floor
Apartment 0-1 (46 sq.m.): 2 rooms, South balcony, 1.180 €, Sorry, no availability